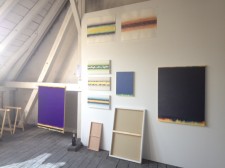 Marma Berlin Residency Program
August 14th~October 23rd, 2012
Open Studios  October 20th~21st, 2012

'Marma' is a non-commercial project offering four artists the opportunity to experience a 3-month- stay in Berlin each year. A small apartment together with a shared studio in the same building will be provided at no charge.  
The artists will live in a small furnished flat and work in a spacious, bright studio with high ceilings for the duration of their stay. The studio will be available for two artists per session.
The rooms are in central Berlin on the 3rd floor of a heritage house in Wiebestr. 39  in the district Berlin- Moabit.
In 2012 the participating artists are Shingo Francis and Kevin Earl Taylor.

Each year two pairs of artists are scheduled to be in residence during the following months:
Mid- April to late July (3.5 months) and early August to late October (3 months)
We are looking forward to receiving applications and recommendations from interested parties.
Please email: m.maennig@yahoo.de
In particular, we are interested in international artists from all cultural backgrounds who have a serious interest in Berlin.
Our organizational, personal and spacious capacities allow artists to present their work by public workshops, exhibitions, artist talks, etc.

MARMA will be financed and managed by
Marc Maennig (Art Collector)
webpage:  http://marma-berlin.blogspot.de

Fall 2012 Artists:
Shingo Francis (USA/Japan)
Keven E. Taylor (USA)

Supported by
Christian Awe (Artist)
Prof. Bette (Artist) and Sabine Bette
Anna von Bodungen (Gallery Director)
Johann Haeling von Lanzenauer (Director Circleculture Gallery, Berlin)
Franca Gelfort (Sales and Communication Circleculture Gallery, Berlin)
Jacqueline and Fre Ilgen (Artist, Curator, Host 'Checkpoint Ilgen')
Stefan Ssykor (Artist)